Sunak suggests MPs will vote on his proposed NI protocol deal
Starmer tells Tory MPs they are cheering Sunak pulling the wool over their eyes. Will Sunak confirm that MPs will get a vote on the final deal.
Sunak says of course the Commons will express its view.
This suggests that there will be a vote of some kind.
Key events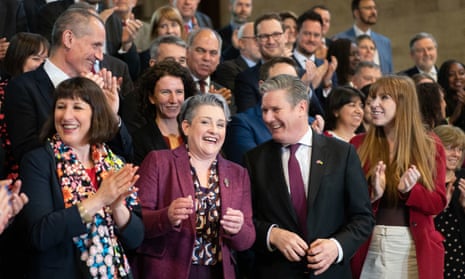 Farming minister Mark Spencer reprimanded by Climate Change Committee over beef imports comment
As my colleagues Fiona Harvey and Helena Horton report, at the NFU conference yesterday Mark Spencer, the farming minister, said that a trade deal could lead to beef being imported from Mexico.
The story has prompted Lord Deben, chair of the Climate Change Committee, to write to Spencer reprimanding him for minimising the importance of agriculture playing its part in the drive towards net zero. Deben said:
The Climate Change Committee has made it quite clear that we cannot ask UK farmers to meet the high standards our carbon budgets require while importing food from nations that produce meat with higher emissions.

This is a sensitive issue all over the UK but it is particularly crucial for Northern Ireland, whose economy is so dependent on meat production. I fear your comments will undermine Northern Ireland's commitment to the tough carbon budgets that are necessary under their new devolved climate law.

The UK cannot reach our legal commitments and international obligations under the agreements at Paris and Glasgow unless our agriculture sector plays its part. That must not be compromised by a decision to allow the importation of meat with a higher carbon footprint than our own.
YouGov has published new polling showing that Labour continues to enjoy a huge lead over the Conservatives, and that Keir Starmer's lead over Rishi Sunak on who would make the best PM is widening.
During PMQs the Labour MP Tan Dhesi said money wasted on PPE contracts during Covid should be recovered so that nurses could get a decent pay rise. There was an error in the post earlier, and it made it sound as if he was asking for more money for MPs. I'm apologise for the mistake, which has been corrected. See 12.21pm.
DUP urges Sunak not to abandon Northern Ireland protocol bill
MPs have now passed the Northern Ireland (executive formation) bill. In the debate, Sammy Wilson, the DUP's chief whip, urged the government not to abandon the Northern Ireland protocol bill, which is currently on pause in the House of Lords. The bill would allow the UK government to unilaterally ignore parts of the protocol (despite some lawyers saying this would be against international law).
Wilson said:
I believe in these negotiations the EU has to understand that there is an alternative and not to proceed with the protocol bill would be wrong because there must be a fallback position if these negotiations don't succeed.
This is also an argument being made by some Tory Brexiters like Boris Johnson, Suella Braverman and Simon Clarke.
SNP leadership contender Ash Regan calls for end to 'mudslinging' in contest
Ash Regan, who is standing to be SNP leader and next first minister, has called for an end to "mudslinging" in the contest.
Speaking to STV News on Wednesday, Regan, who resigned last year from her post as community safety minister because of her opposition to the gender recognition reform bill, said:
I just want to put out a call for calm – I think that's really important at the moment. Kate and Humza are really valued colleagues, they're a really important part of the SNP.

So, I think all the mudslinging that's been going on just now just needs to stop, everyone needs to take a breath.

We've all got to remember that we're all going to be working together at the end of this.

I want us all to come back together as a strong SNP and we're all going to be working together for the betterment of Scotland.
Regan is competing against Humza Yousaf, the health secretary who is now the favourite, and Kate Forbes, the finance secretary whose personal opposition to equal marriage has been widely criticised. Forbes has also been accused of breaking party rules banning transphobia by claiming that a trans woman in biologically male.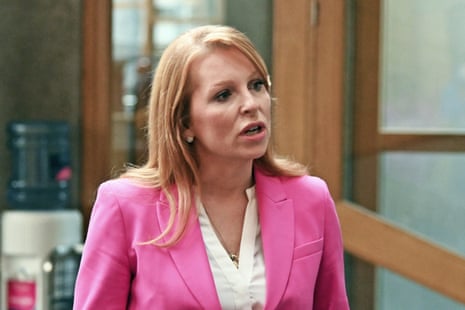 NEU says it will only call off next week's teachers' strikes if it gets 'serious' pay offer by Saturday

Richard Adams
The National Education Union says it will only call off next week's regional strikes in England if the government makes a "serious proposal" on teachers' pay, in a rebuff to the government's offer of talks.
Gillian Keegan, the education secretary, yesterday wrote to teaching unions in England offering to begin "formal talks" on condition that the NEU cancel next week's strikes. (See 10.15am.)
The NEU's leadership has responded by calling for Keegan to make concrete proposals this week, to enable the union's national executive to postpone the strikes planned for next Tuesday, Wednesday and Thursday.
In a statement the NEU said:
If the government comes forward with a serious proposal to end the dispute ahead of Saturday and we consider it compelling enough, then we will put it to our national executive this Saturday with the recommendation to pause forthcoming strike action in order to discuss it further.

As things stand, however, no such offer has been made and the strikes remain in place.
Leaders of other teaching unions have accused the government of being "naive" by insisting on cancellation, and say that so far talks with Keegan have "meandered" without any proposals being put forward.
The NEU is planning a series of rolling one-day strikes starting on 28 February in north and north-west England, Yorkshire and Humber, followed by 1 March in the East Midlands, West Midlands and the NEU's eastern region, and 2 March in London, south-east and south-west England.
Any moves in England will not affect the NEU's planned strikes in Wales scheduled for 2 March.
What we learnt from PMQs about Sunak's proposed NI protocol deal
Keir Starmer used all his questions at PMQs to ask about Rishi Sunak's proposed deal on the Northern Ireland protocol deal with the EU, and other MPs asked about it too. Sunak was not in the mood to spill all, and on some questions he was evasive. But some of what he said was revealing. Here are the main points.
Sunak said parliament would "express its view" on the protocol deal. In response to a question from Keir Starmer, who asked him to confirm that "whatever deal he brings back, this house will get a vote on it", Sunak replied:
Of course parliament will express its view.
Starmer then said: "I take it from that that this House will get a vote and I look forward to that vote in due course."
I'm a bit more cautious, and have taken that as Sunak suggesting that MPs will get a vote. (See 12.11pm.)
Holger Hestermeyer, a professor of international law and a former adviser to a House of Lords committee, does not agree and says Sunak may just have been promising a debate.
Hestermeyer may be right. (At the post-PMQs lobby briefing, No 10 refused to say exactly what Sunak meant.)
But a debate would probably entail a vote of some kind anyway. Starmer was pushing for a proper vote on a substantive motion, presumably on a three-line whip. This would be the proper thing to do on an important policy matter, even though, as Hestermeyer says, there is no procedural requirement for a vote. But Sunak will be nervous of this, because on a three-line whip some Tories would probably vote against.
To avoid a vote, Sunak could schedule a debate on the deal on a 'take note' motion ("that this house has considered the Northern Ireland protocol deal" etc) or even on an adjournment motion. These debates normally end with the (essentially pointless) motions being approved on the nod. But sometimes MPs treat these motions as votes on the matter of substance and force a division. If so, in this case the DUP, or Tory Brexiters, could decide to vote against just to make a point.
I am a Conservative, a Brexiter and a unionist, and any agreement that we reach needs to tick all three boxes.

"It needs to ensure sovereignty for Northern Ireland, it needs to safeguard Northern Ireland's place in our union, and it needs to find practical solutions to the problems faced by people and businesses.

I will be resolute in fighting for what is best for Northern Ireland and the United Kingdom.
Sunak refused to confirm that his deal would involve Northern Ireland continuing to follow some EU law, and the European court of justice continuing to have some role in the region. And he refused to confirm that, if a deal is agreed, the Northern Ireland protocol bill will be permanently shelved. Starmer put these questions to him, but Sunak refused to confirm all three points because he knows all three propositions are anethema to some Tories. Jessica Parker, the BBC Brussels correspondent, says we do know what the answers are.
Sunak said that he understood the DUP concerns about the deal "loud and clear". This came in response to a question from Sir Jeffrey Donaldson, the DUP leader, who said:
Can I thank the prime minister for his efforts in relation to the Northern Ireland protocol. It is unacceptable that Northern Ireland has been put in this place with a protocol imposed upon us that harms our place in the UK.

It must be replaced with arrangements that are acceptable and restore our place in the UK and its internal market. Does the prime minister accept how important the constitution and democratic issues are in relation to getting a solution and will he agree with me that is unacceptable that EU laws are imposed on Northern Ireland with no democratic scrutiny or consent and will he assure me that he will address these fundamental constitutional issues and do so not just by tweaking the protocol, but by rewriting the legally binding treaty text?
In reply, Sunak said:
I have heard loud and clear when he says he wants and needs these issues resolved so that he has a basis to work with others to restore power-sharing and I know that that is genuine.

He raises a question of practical issues and it is vital that these are addressed but he also raises a vital question about the constitutional and legal framework in which these arrangements exist and I can assure him that I agree.

Addressing the democratic deficit is an essential part of the negotiations that remain ongoing with the EU and just as he has been consistent, so have I and I can assure him that this at the very heart of the issues that must be addressed.
As Alex Wickham from Bloomberg points out, Donaldson was asking for something – change to the text of the treaty – that the EU has repeatedly ruled out, and which is not expected in the final deal.
Given this point, there were two interesting features of the Sunak/Donaldson exchanges.
First, despite the clear policy difference between what the DUP wants and what seems to be on offer, the tone, on both sides, was polite and respectful. That is not with the DUP. Sunak may have given up hope of getting the DUP to back his deal, but he may hoping that they won't oppose it wholeheartedly either.
Second, Sunak implied there was still a chance of getting some sort of change to "the constitutional and legal framework". Some reports (eg this from RTE's Tony Connelly) say that the text of the agreement has already been finalised. But Sunak implied otherwise. And he used a similar phrase in a later reply, to Sir Robert Buckland, telling him "it is absolutely right that we address the constitutional and legal framework of our arrangements".
Unison says 8 March health strike 'serious escalation' of dispute
Unison has released more details of the strike by its health workers planned for 8 March in England. It says this is "a serious escalation of the dispute and a direct result of the government's failure to hold proper pay talks with health unions".
In a news release, the union states:
Health workers at NHS Blood and Transplant, Great Ormond Street hospital, the Tavistock and Portman NHS foundation trust, Liverpool Women's hospital and the Bridgewater community trust will now be among those now walking out for the first time.

They will be joined by ambulance staff at four services in England – south central, east of England, West Midlands and east Midlands, also now able to take action following their successful strike vote last week.

This means staff will be on picket lines in all but one ambulance service in England in two weeks' time. Colleagues working for ambulance services in London, Yorkshire, the north-east, north-west and south-west – who have already taken action on four previous occasions – will also walk out on 8 March.

Up to 32,000 NHS workers belonging to Unison in England are now able to take strike action. This follows the re-balloting of 10 NHS employers in England, where the strike vote fell just short of the legal threshold last year.

NHS workers at two trusts in Liverpool (the Liverpool University hospitals NHS foundation trust and the city's Heart and Chest hospital) will also join the 8 March strike.
Ambulance staff in Unison to strike on 8 March, union says
Unison has announced that ambulance staff and other health workers in the union will strike on 8 March in an escalation of their dispute over pay. This is from Christina McAnea, the general secretary.