In order to open this email, you had to go through a few steps.
If you're on your smartphone, you either entered your passcode, or your phone recognized your face.
From there, you tapped on your email application, which required no identity validation, since the device assumes that you are you, and that you're entitled to access any information contained within.
But if you're on your computer, you may have had to go through a two-factor authentication process – also conducted via your smartphone.
The point of this is, our lives are significantly digitalized – and with that comes significant threats.
If you work on a computer for a living, you may be familiar with once-per-quarter lessons taught to deter the likelihood of cyberattacks – and as these attacks and attempts get more sophisticated, so too must our line of defense.
And while there won't one day be a world without cyberwarfare, there is a huge section of the market bursting with potential that is fully dedicated to shielding your information from these hacking fiends…
---
Man Who Predicted Collapse of 70 Stocks: DO THIS 
The U.S. economy is on the cusp of a full-blown revolution… Wall Street legend Eric Fry believes it could create millions in new wealth. Here's why.
---
Hack Attacks on the Rise
Cyberattacks have become so frequent that they now average 2,200 per day – one every 39 seconds. That means there's probably been another cyberattack just since you started reading this.
The surge in remote work over the past three years has opened up more opportunities for hackers, especially if folks don't take recommended safety measures like using strong passwords, multi-factor authentication, updated software, virtual private networks, and being aware of attempts to obtain personal information – aka "phishing."
In addition, the number of wirelessly connected devices has gone through the roof – from our smartphones to kids' toys to surgical robots, there are more targets to attack.
Unfortunately, cyberattacks are also an instrument of war in this digital age. Shortly after invading Ukraine, Russia disabled Ukraine's satellite communications, though Ukraine managed to get them back online quickly.
Microsoft Corp. (MSFT) said last year that the company noticed 15 Russian cyberattacks against Ukraine two months before the war started. Russia invaded on Feb. 24, and Microsoft noticed a jump to 125 cyberattacks in March.
The global cybersecurity market was valued at $139.77 billion last year, according to Fortune Business Insights. Fortune projects 13.4% annual growth through 2029, which would almost triple the market to $376.32 billion.
Another report from market research firm Gartner says organizations will spend more than $188 billion on cybersecurity next year, with that number increasing to $262 billion in 2026.
This is consistent with my analysis when I started recommending cybersecurity-related investments to Investment Report readers two years ago. In one of my special research reports for subscribers, I wrote about the impact of cloud computing, specifically…
And the more that businesses and individuals migrate their technological lives to the cloud, the greater the imperative to secure the data and apps that reside there.

For example, as the global workforce becomes more distributed and more employees work from home, demand for cloud-based security systems grows.

According to Research and Markets, the global cloud security market is projected to grow from $34.5 billion in 2020 to $68.5 billion in 2025, at a compound annual growth rate (CAGR) of 14.7%.
Attractive Entry Points
As with most every other industry, the market was not kind to cybersecurity stocks in 2022. Tech stocks especially took a beating.
The ETFMG Prime Cyber Security ETF (HACK) has slumped 28.27% from Jan. 2022 to the present, though it has shown some signs of life over the past two months. After hitting a new low for 2022 on Oct. 13, HACK bounced 14% (which outpaced NASDAQ's 9% bounce in that same time).
It hit resistance at about $47.50 on Dec. 1 but seems to have found some support around $42.60.
This chart, like many stocks as of late, doesn't look so hot. But check out HACK's past three years…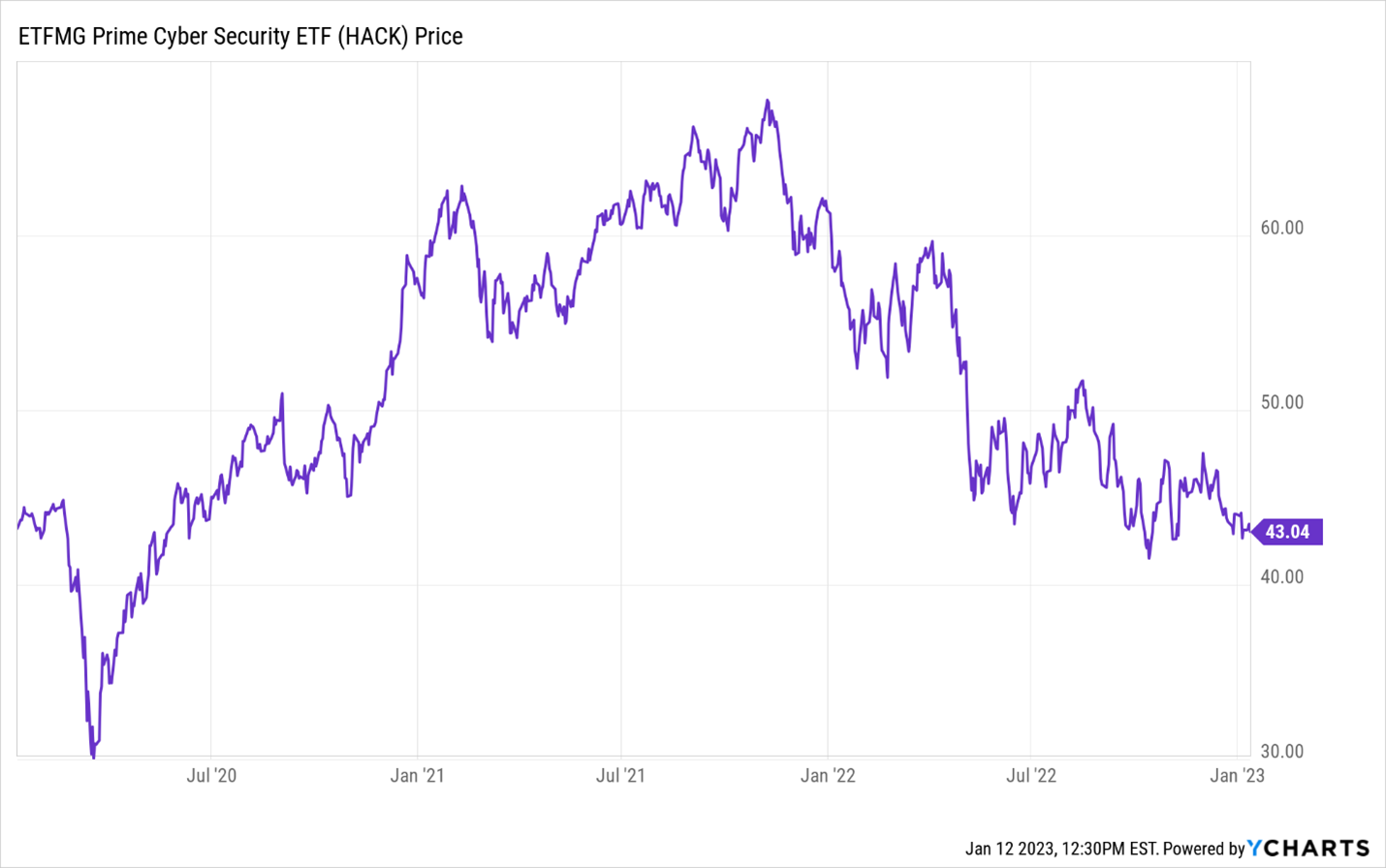 That tells a somewhat different story. You can see where cybersecurity stocks were headed before inflation, bond yields, and interest rates dragged on the market this year.
But the underlying trend hasn't changed. The odds that cyber threats will decrease in the coming years are, to quote Muhammed Ali, "Slim, and none. And Slim just left town." HACK and cybersecurity stocks are likely to return to previous highs and then some.
Go Phishing for a Big Payout
HACK is one way to invest in multiple cybersecurity stocks at the same time. There are nearly 60 stocks in the ETF, including the industry's biggest players: Palo Alto Networks Inc. (PANW), with a $50 billion market cap; Fortinet Inc. (FTNT), with $44 billion; and CrowdStrike Holdings Inc. (CRWD), with $38 billion.
I also recommend lesser-known companies – or companies known for other things – that are growing with the cybersecurity sector and have strong upside potential. (Learn how to access all of my Investment Report recommendations here.)
One of my favorite picks in this space has evolved quickly.
When I originally recommended this stock in 2021, I described it as the world's premier content delivery network (CDN) provider, saying it is "… a fast-growing cybersecurity company in the guise of a slow-but-steadily growing CDN… But behind the scenes, it is becoming one of the world's leading cloud-security firms."
And that is exactly what it's become – now taking center stage.
To clarify, a CDN is a geographically distributed collection of servers that work together to provide fast delivery of internet content. It is like a network of data "minimarts" that operate closer to end users than the large web-hosting data warehouses known as "data centers."
These minimarts don't deliver everything you'd ever need… just everything you need right now.
A CDN does not host content like a data center, and it can't replace the need for proper web hosting. Instead, it caches content at the network edge, which enables the quick transfer of data like streaming video and applications.
The CDN business is solid and profitable, but not growing much. Conversely, this company's cloud security business has been growing rapidly. Its revenues have tripled during the last five years and now account for more than 40% of the entire company's revenues.
The chart below shows that breakneck growth.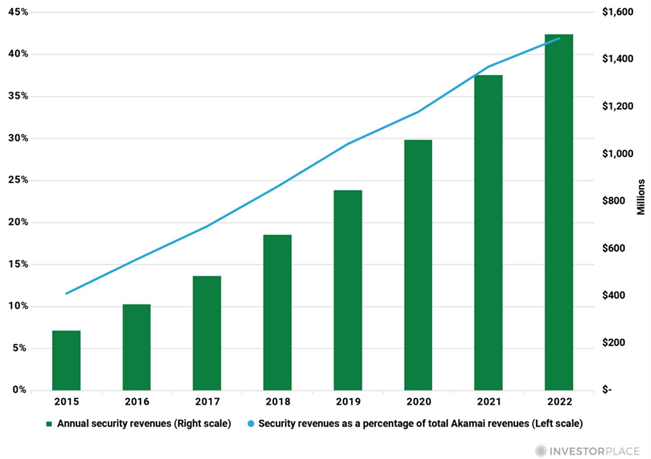 An increasingly distributed workforce, combined with the exponential growth of "connected devices," will create open-ended demand for comprehensive security solutions.
In fact, Cisco Systems Inc. (CSCO) estimates there will be three times as many connected devices as there are people in the world next year – or 29.3 billion devices. That's a lot of cyber-targets that need protection.
That's why Fortune Business Insights expects the global cybersecurity market to triple by 2029. Another report from market-research firm Gartner says organizations will spend more than $188 billion on cybersecurity next year, with that number increasing to $262 billion in 2026.
That rate of growth should boost both sales volumes and margins throughout the cybersecurity industry… and savvy investors in the right companies are well-positioned to profit.
Regards,
Eric
On the date of publication, Eric Fry did not have (either directly or indirectly) any positions in the securities mentioned in this article.