Share:

Li Auto released Q4 earnings with consensus beats on EPS, revenue.
Li Auto reported Q4 EPADS of $0.13.
LI stock bounced 5% to $24.40 on the news.
Revenue of $2.56 billion rose 62% YoY.
Li Auto (LI) stock rallied 5.9% in Monday's premarket to $24.60 after the Chinese electric vehicle upstart beat Wall Street consensus for its fourth quarter. Li Auto posted adjusted earnings per American depositary share (EPADS) of $0.13, which was 7 cents better than analyst projections. Revenue of $2.56 billion also beat its mark by $10 million. 
Competitors Nio (NIO) and XPeng (XPEV) rose 3.4% and 5.7%, respectively.
Li Auto stock news: Deliveries are booming
Li Auto is experiencing explosive growth. The automaker sold $2.5 billion worth of vehicles in the fourth quarter, which amounted to a 66% increase over the prior year's period. Profits were benefited by a vehicle margin of 20%, which was much higher than the 12% margin seen in the third quarter but down from the 22% margin in Q4 2021.
"We ended the year on a high note, with record deliveries of more than 20,000 vehicles in December, setting a new milestone for our company and emerging new energy automakers in China," said CEO Li Xiang. "While Li L9 continued to dominate the monthly full-size SUV sales chart in China, Li L8 proved to be another blockbuster and one of China's best-selling large SUVs since its debut."
The company just released the Li L7 model in early February. This five-seat SUV comes at a lower price point and should allow the automaker to drive much higher deliveries and sales for the full year.
Deliveries rose nearly 32% in the fourth quarter to 46,319. Management is not stopping there however. Founder and CEO Li Xiang is gunning for between 52,000 and 55,000 deliveries in the first quarter of this year, which would mean a YoY gain of nearly 69% at the midpoint. Guidance for revenue in Q1 was placed between $2.53 and $2.68 billion, which would amount to growth rate of nearly 88% at the midpoint.
Li Auto deliveries / Source: Li Auto Q4 press release
Losses are falling as well. Li Auto reported an operations loss of $19.4 million in the quarter, but this was almost 94% lower than the same period a year ago. Free cash flow of $472 million in the quarter rose 102% YoY. Li Auto's CFO Tie Li ascribed the decent margins produced in the quarter to "disciplined cost management" and a favorable product mix.
Li Auto stock forecast
Despite Li Auto's rally in Monday's premarket, the stock had clearly been in a downtrend heading into earnings. First, the 9-day moving average crossed below its 21-day counterpart last week. Additionally, the Moving Average Convergence Divergence (MACD) indicator shows a bearish downtrend as well.
If LI stock keeps rising, it immediately moves into a resistance zone between $26 and $28.25. This area stems from the gap up in June of last year. Above there lies resistance at $32 from the entire summer of 2022. Luckily for bulls, Li Auto stock just tested the ascending trendline last week, so odds are that the market will be fine with the rising share price. If LI stock breaks that bottom ascending trendline, expect shares to find support at $18, the late December range low.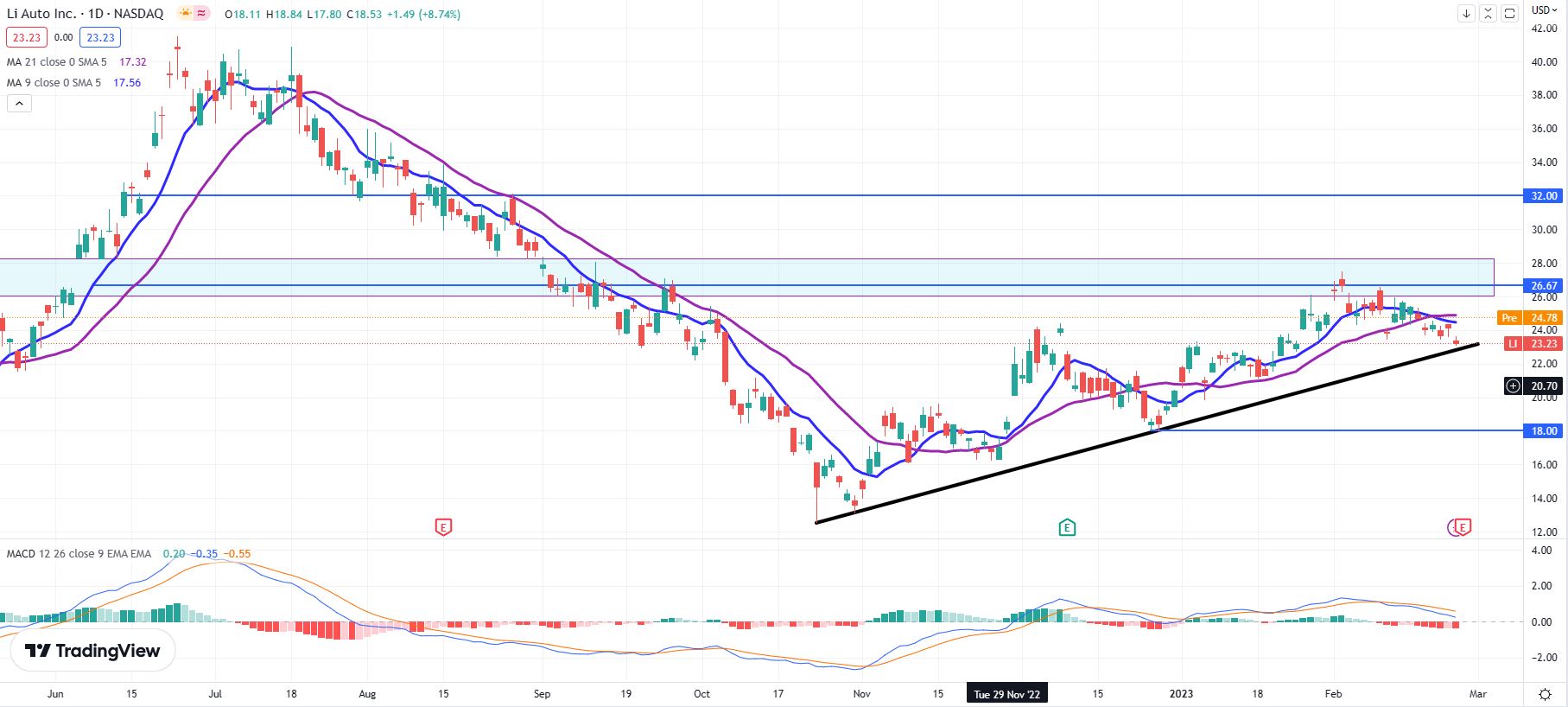 LI daily chart