Share:

Dogecoin price has been veering downwards since its 38% rise in January to trade at $0.085.
Bearish indicators suggest further corrections could be on the cards, which could result in a drop to $0.074.
If buyers choose to accumulate the dog-themed token and push the price beyond $0.108, the bearish thesis would be invalidated.
Dogecoin price seems to be continuing its streak of underwhelming recovery as the altcoin is struggling to breach a two-week barrier. Going forward, the altcoin is expected to slide further as the bullish cues do not appear to have any effect on DOGE.
Dogecoin price against the market
While Bitcoin and most of the big market capitalization altcoins have been showing bullish signs, the Dogecoin price is looking at a decline. This is because the lack of growth noted in the first few weeks of the year kept DOGE below the critical resistance of $0.108.
The Parabolic Stop and Reverse (SAR) trend indicator is currently suggesting an active downtrend, as its blue dots are above the current run of candlesticks (if they were below it would suggest the opposite: an active uptrend). 
Price indicators are also pointing to potential corrections over the next few trading sessions. 
The Moving Average Convergence Divergence indicator (MACD) is on the verge of registering a bearish crossover. The signal line (red) is about to move over the MACD line (blue), which evinces the same. Declining green bars on the histogram also point toward a bearish momentum.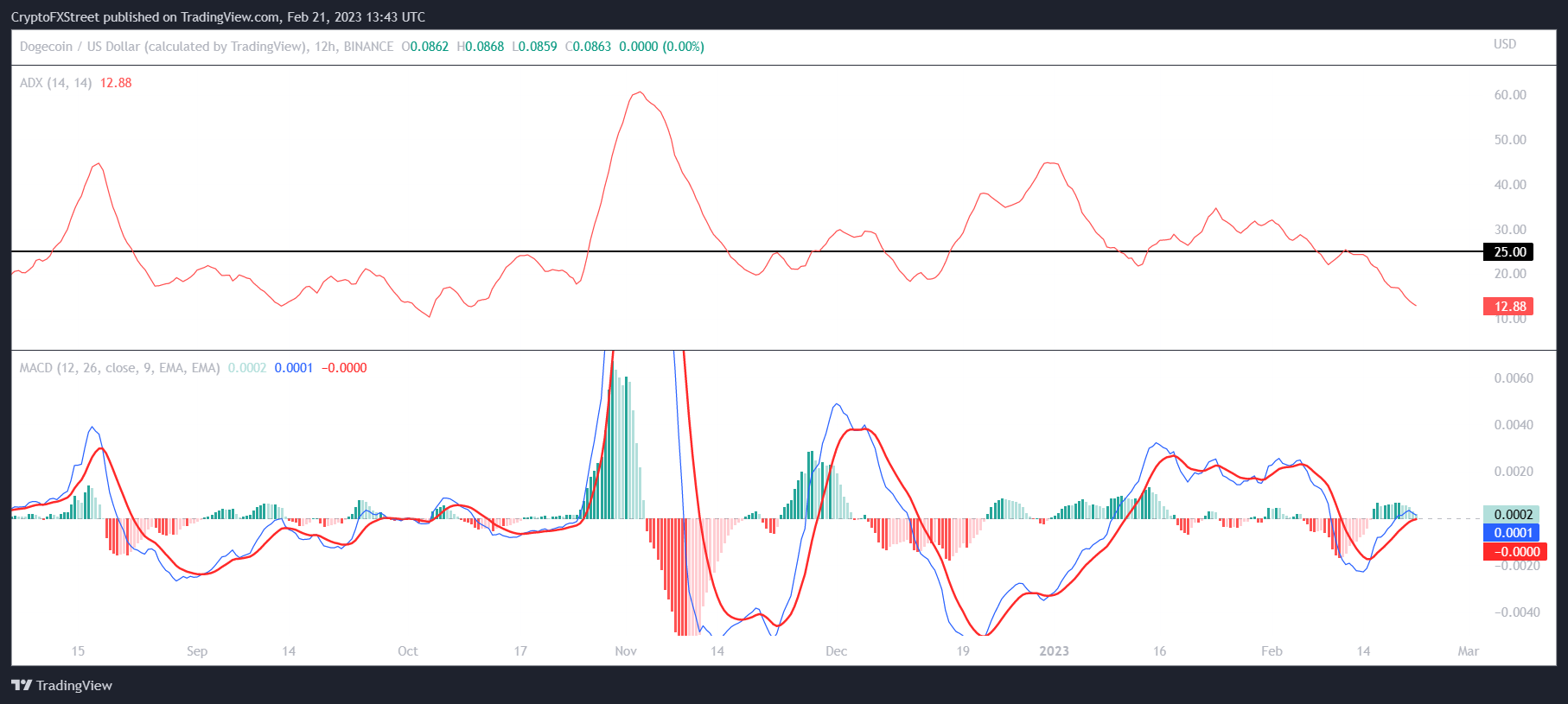 Dogecoin MACD and ADX 
The Average Directional Index (ADX), however, is registering only 12.88, and thus is not indicating any strength to the downtrend. The indicator would have to be above the 25.0 threshold to expect DOGE to experience a significant loss in price.
If Dogecoin price was to lose the critical support at $0.084, it would most likely decline by almost 14% to trade at $0.074. 
If the downtrend picks up strength, DOGE might even end up losing the support of $0.070.
But if buyers pull through and the dog-themed token bounces off of $0.084 and breach the resistance at $0.090, it could rise to $0.100. 
Flipping this level into a support floor would provide DOGE with the push it needs to test the critical resistance at $0.108. Finally, a daily candlestick above this level would invalidate the bearish thesis and mark a three-month high for the altcoin.