Share:

Chainlink price yields 7% daily gain with bullish catalysts like whale accumulation and recent partnerships. 
LINK holders expect a negative impact on Chainlink price with $100 million worth of tokens hitting Binance.
Chainlink community ambassador explains that the recent inflow of 70 million LINK tokens to exchanges is the scheduled token release.
Chainlink's supply on exchanges has climbed with 18.75 million tokens hitting centralized exchanges like Binance. This represents $100 million worth of LINK tokens, which could create considerable selling pressure on Chainlink and a likely decline in the asset's price.
LINK price has rallied 7% on the day and 9.5% over the past week. 
Also read: Ethereum Layer 2 networks BASE, zkSync Era make history, ETH bites the dust
LINK supply on centralized exchanges increases
Market participants have noted a huge spike in on-chain activity in LINK tokens. On September 15, Chainlink recorded a massive increase in activity on its blockchain with nearly 52.3 million LINK tokens being transferred to centralized exchange wallets. 
Chainlink large transaction volume
52.3 million tokens is equivalent to nearly $326 million in LINK. This is not the first such movement of this kind recorded on-chain, however. 
More recently, crypto intelligence tracker Lookonchain identified that a wallet tagged as "Chainlink Noncirculating Supply" has been depositing LINK to Binance every three months since August 26, 2022. On September 16, the wallet deposited 15.7 million LINK worth approximately $97.5 million to Binance.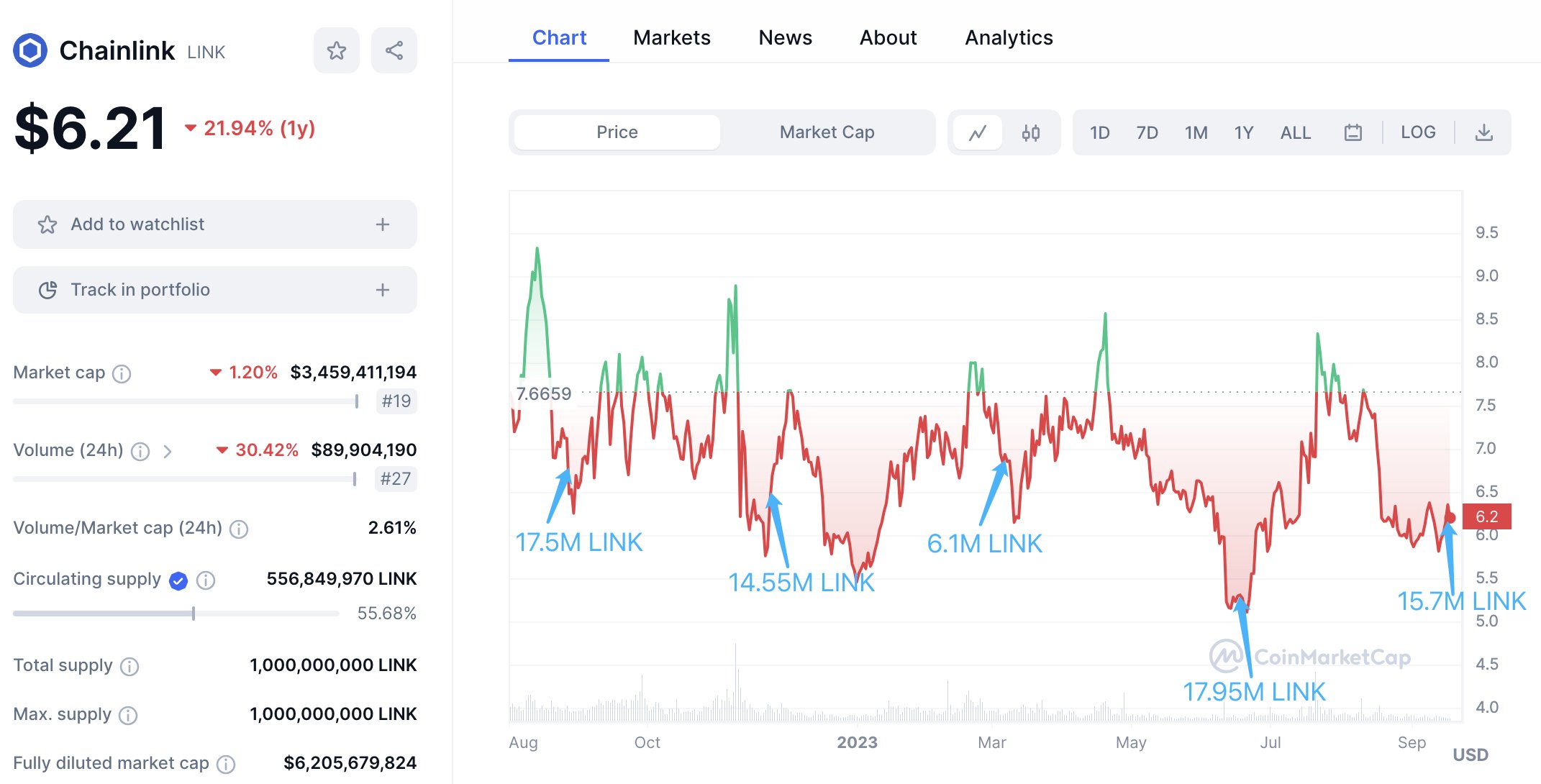 LINK deposits by the Chainlink Noncirculating Supply wallet
Since August 2022, the total volume of LINK deposited is 71.8 million, worth $446 million. Of this, 70 million is part of the scheduled token release of Chainlink for development purposes, according to Chainlink Ambassador's recent tweet. This explains part of the influx to exchanges, leaving the 1.8 million token transfer unexplained.
LINK token influx to exchanges has raised concerns within the holder community, speculating on the impact and likelihood of a sell-off of LINK. Over the past day, LINK price climbed 7.2% to $6.580. The altcoin has yielded a nearly 10% gain to holders over the past week, amidst concerns of a sell-off.
It remains to be seen whether the large volume deposits to centralized exchanges are absorbed by the demand from large wallet investors, or drive LINK price lower.
Bitcoin, altcoins, stablecoins FAQs
Bitcoin is the largest cryptocurrency by market capitalization, a virtual currency designed to serve as money. This form of payment cannot be controlled by any one person, group, or entity, which eliminates the need for third-party participation during financial transactions.
Altcoins are any cryptocurrency apart from Bitcoin, but some also regard Ethereum as a non-altcoin because it is from these two cryptocurrencies that forking happens. If this is true, then Litecoin is the first altcoin, forked from the Bitcoin protocol and, therefore, an "improved" version of it.
Stablecoins are cryptocurrencies designed to have a stable price, with their value backed by a reserve of the asset it represents. To achieve this, the value of any one stablecoin is pegged to a commodity or financial instrument, such as the US Dollar (USD), with its supply regulated by an algorithm or demand. The main goal of stablecoins is to provide an on/off-ramp for investors willing to trade and invest in cryptocurrencies. Stablecoins also allow investors to store value since cryptocurrencies, in general, are subject to volatility.
Bitcoin dominance is the ratio of Bitcoin's market capitalization to the total market capitalization of all cryptocurrencies combined. It provides a clear picture of Bitcoin's interest among investors. A high BTC dominance typically happens before and during a bull run, in which investors resort to investing in relatively stable and high market capitalization cryptocurrency like Bitcoin. A drop in BTC dominance usually means that investors are moving their capital and/or profits to altcoins in a quest for higher returns, which usually triggers an explosion of altcoin rallies.
---
Like this article? Help us with some feedback by answering this survey:
---
---