Share:

Chainlink's supply on exchanges has climbed with 18.75 million tokens hitting centralized exchanges like Binance. This represents $100 million worth of LINK tokens, which could create considerable selling pressure on Chainlink and a likely decline in the asset's price.
LINK price has rallied 7% on the day and 9.5% over the past week. Market participants have noted a huge spike in on-chain activity in LINK tokens. On September 15, Chainlink recorded a massive increase in activity on its blockchain with nearly 52.3 million LINK tokens being transferred to centralized exchange wallets. 
The crypto market gained around 3% last week, taking its capitalisation to $1.06 trillion – the highest since late August. The market dip at the start of the previous week has fuelled buyers' appetite.
But we are also seeing interest in crypto, in contrast to the sell-off in tech giants.
We saw something similar in the spring as capital fled regional banks in the US. Isn't it a sign that something is brewing in the banking sector again? Trading at $26.5K, Bitcoin has recovered to 76.4% of the decline from the July peak to the September trough. Recent optimism shows that we could see a classical correction to 61.8%, near $27.5K. 
Shiba Inu, one of the largest meme coins in the crypto ecosystem, seems to be gearing towards a price recovery, according to the latest on-chain developments. Large volume transfers initiated by whales moved 1.52 trillion SHIB tokens in the past 24 hours.
Large transaction volumes are typically associated with volatility in the asset's price, particularly in days of thin trading. In the case of SHIB, based on data from crypto intelligence tracker IntoTheBlock, the total volume of token transfer in the last 24 hours accounts for 1.52 trillion SHIB.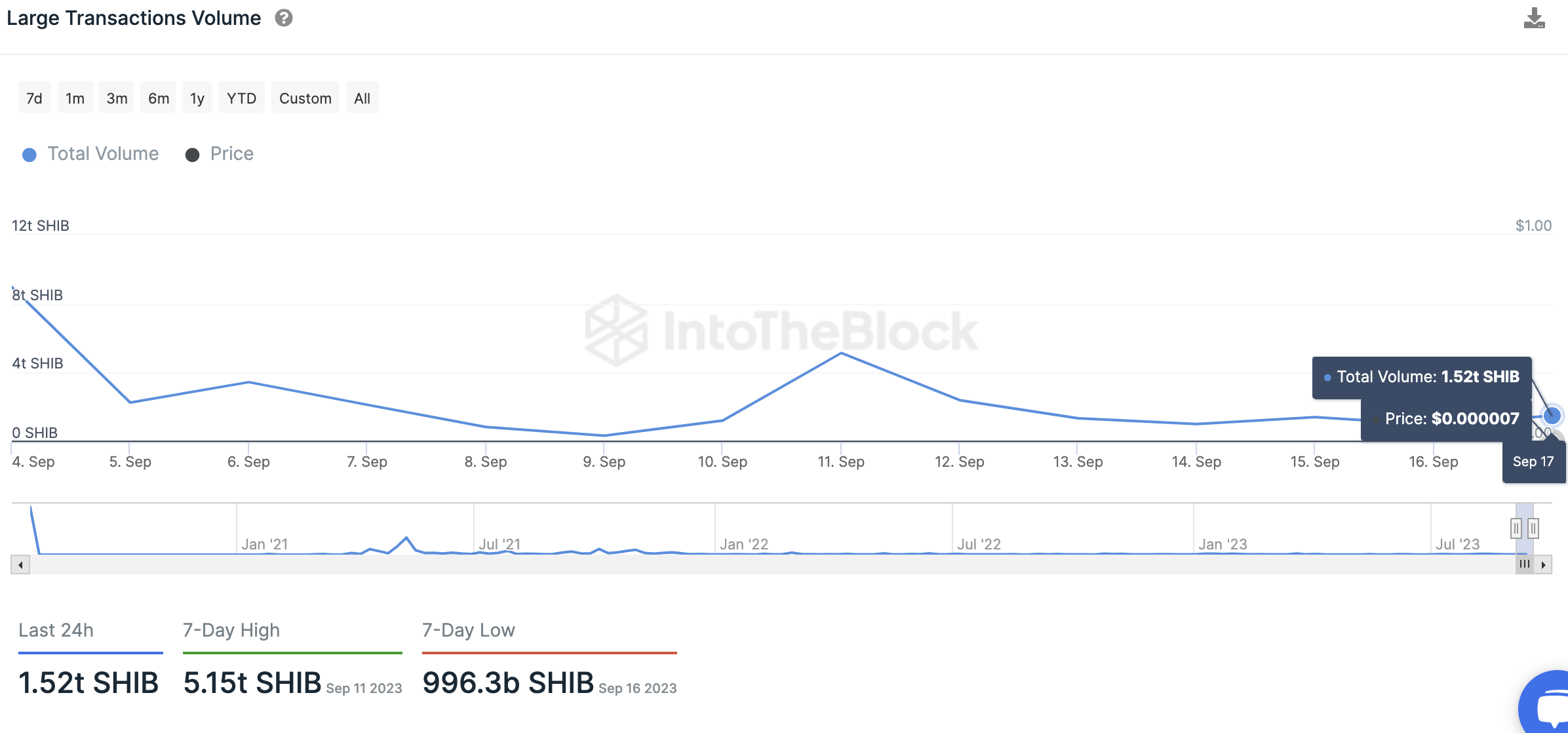 ---