In modern banking landscape, the key to client satisfaction and financial brands profitability lies in the excellence of digital services. Today's consumers demand more than reliable transactions and secure storage of their funds; they seek seamless,
intuitive and emotionally resonant interactions with their financial institutions. It is not enough to update the digital service half-decade; you need to improve digital customer experience constantly taking inspiration from the likes of Apple. Let's explore
ten examples of financial services transformation that improves an emotional connection between brand and customers through a stunning UX design.
Stagnation is the enemy of progress. To stay relevant and move ahead of the competition, financial organizations must adopt a completely different approach to financial product design—one that revolves around customer needs, emotions and continuous innovation.
By leveraging aesthetics, tone of communication and personalized interactions, institutions can create a sense of connection and empathy. This, in turn, fosters stronger relationships, enhances customer retention and transforms financial transactions into
meaningful experiences.
"Before-After" Digital Product Transformations in Finance
In the past eight years, we have completed over 100 digital financial services transformations for Fintechs and banks in 36 countries. Let's explore ten stories of how banking and financial products are transformed when they are switched to a customer-centric
approach:
1. Banking & Lifestyle Super App
Mauritius Telecom (MT), the top telecom company in Mauritius, aimed to shape a digital future for Mauritians. Their focus was on expanding the existing my.t money app into a digital bank, establishing a pioneering financial Super App. Their my.t money app,
launched in 2019, had already revolutionized payments with digital P2P and QR code transactions. Through UX design, they created an integrated platform merging finance, telecom and lifestyle services.
With a customer-centric vision, MT aimed to enhance convenience and advancement for Mauritius' 1.3 million inhabitants.
2. Retail Banking App for 100-years Old Bank
Banka Kombëtare Tregtare (BKT), Albania's largest and oldest commercial bank, recognized the need to modernize their digital offerings to meet current service expectations. 
UX design challenge was to overhaul mobile banking's customer service by redesigning user journeys in alignment with BKT's user needs. The aim was to create an inviting and reliable digital banking companion, empowering users to enhance their financial decisions
and money management, ultimately enhancing their quality of life.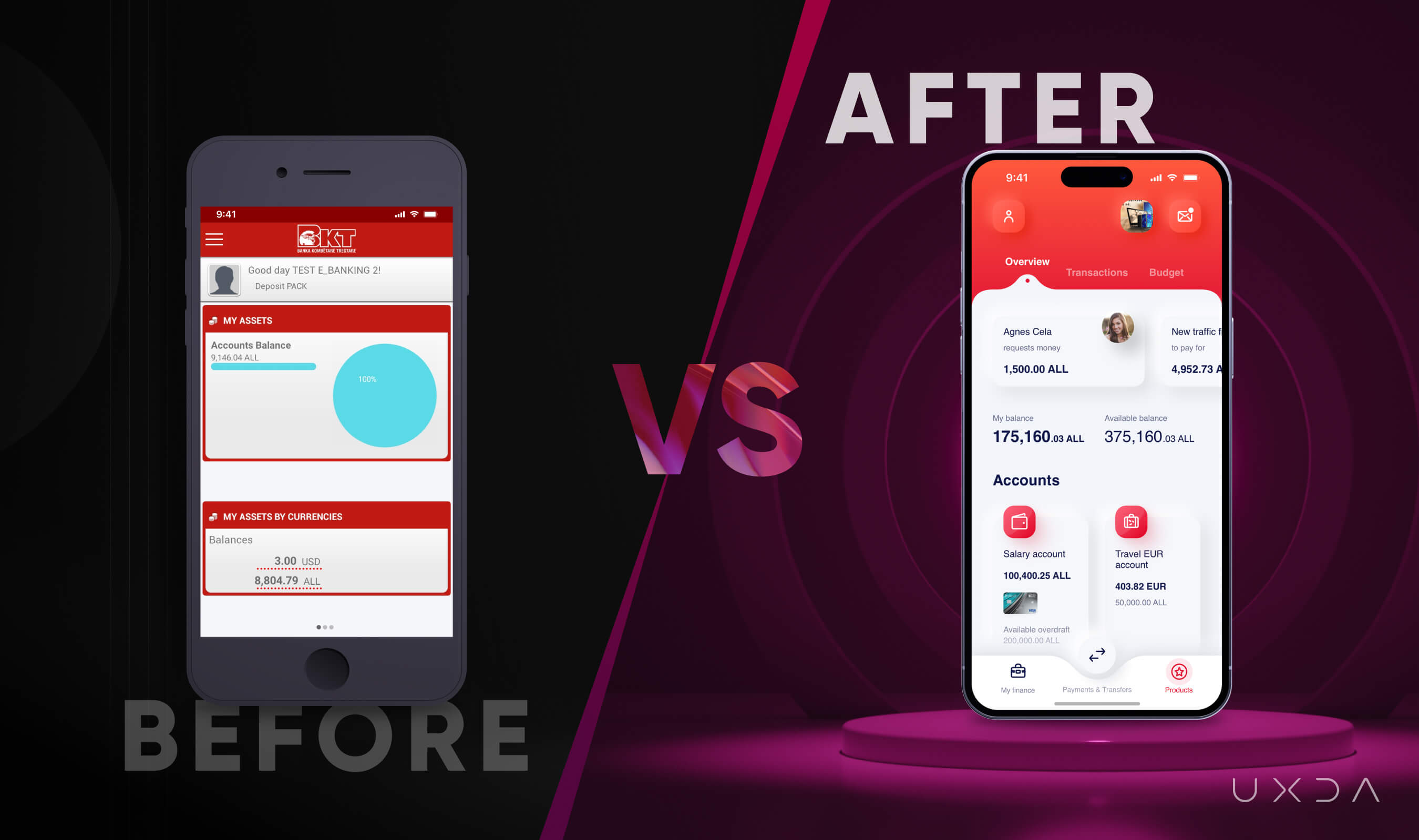 These mobile banking enhancements not only transformed BKT's perception of the brand from a digital perspective but also solidified their market leadership. They defied conventional notions of digital banking by offering a light, enjoyable and user-friendly
experience. BKT's comprehensive transformation focused on providing users with convenient, innovative mobile customer service, empowering them to seamlessly manage their financial tasks and marking a significant leap in the bank's legacy.
3. UAE Mobile Banking App
Emirates NBD, a leading middle eastern bank serving 17 million customers across 13 countries, embarked on a transformation journey to elevate its app into a cutting-edge digital service surpassing traditional retail banking. This ambitious vision involved
consolidating various solutions, such as retail banking and deals, into a unified app. Additionally, the aim was to transform wealth management from an offline process to a fully online one by integrating it into the same app, all while catering to the unique
needs and expectations of distinct customer segments.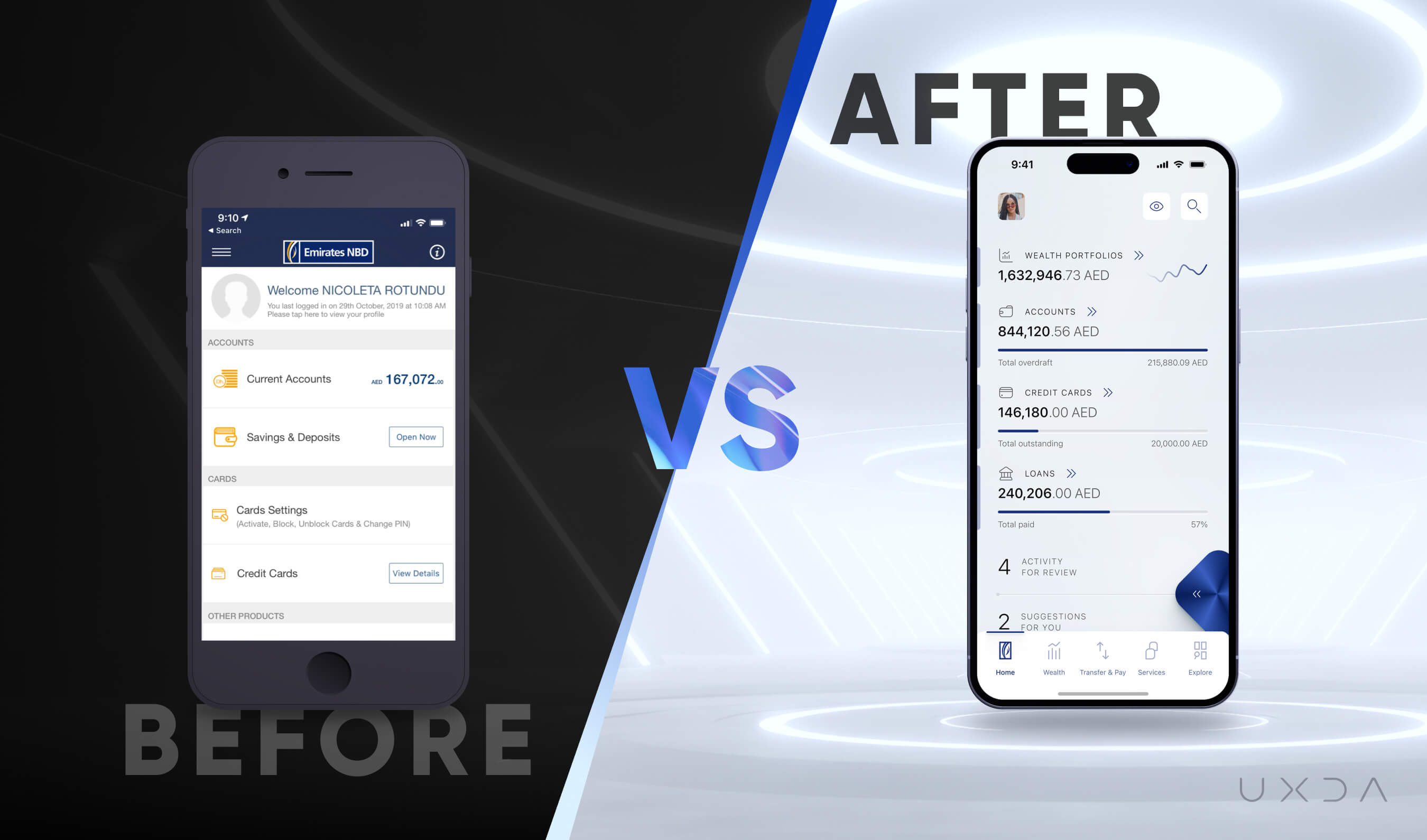 The challenge at hand was the creation of an enhanced digital user experience that not only fulfills user needs but also imparts a sense of individualized importance. Emirates NBD's ultimate aspiration was to establish their mobile app as the preferred choice
for financial and investment management for retail and private banking customers in the region.
4. Retail Banking App in Africa
CRDB, a prominent bank in Tanzania, embarked on a transformative journey to revolutionize the banking experience in Tanzania through a modern app design. Striving for innovation, they partnered with us to overhaul their digital strategy, introduce novel
features to meet evolving customer needs and stay ahead in the competitive financial landscape.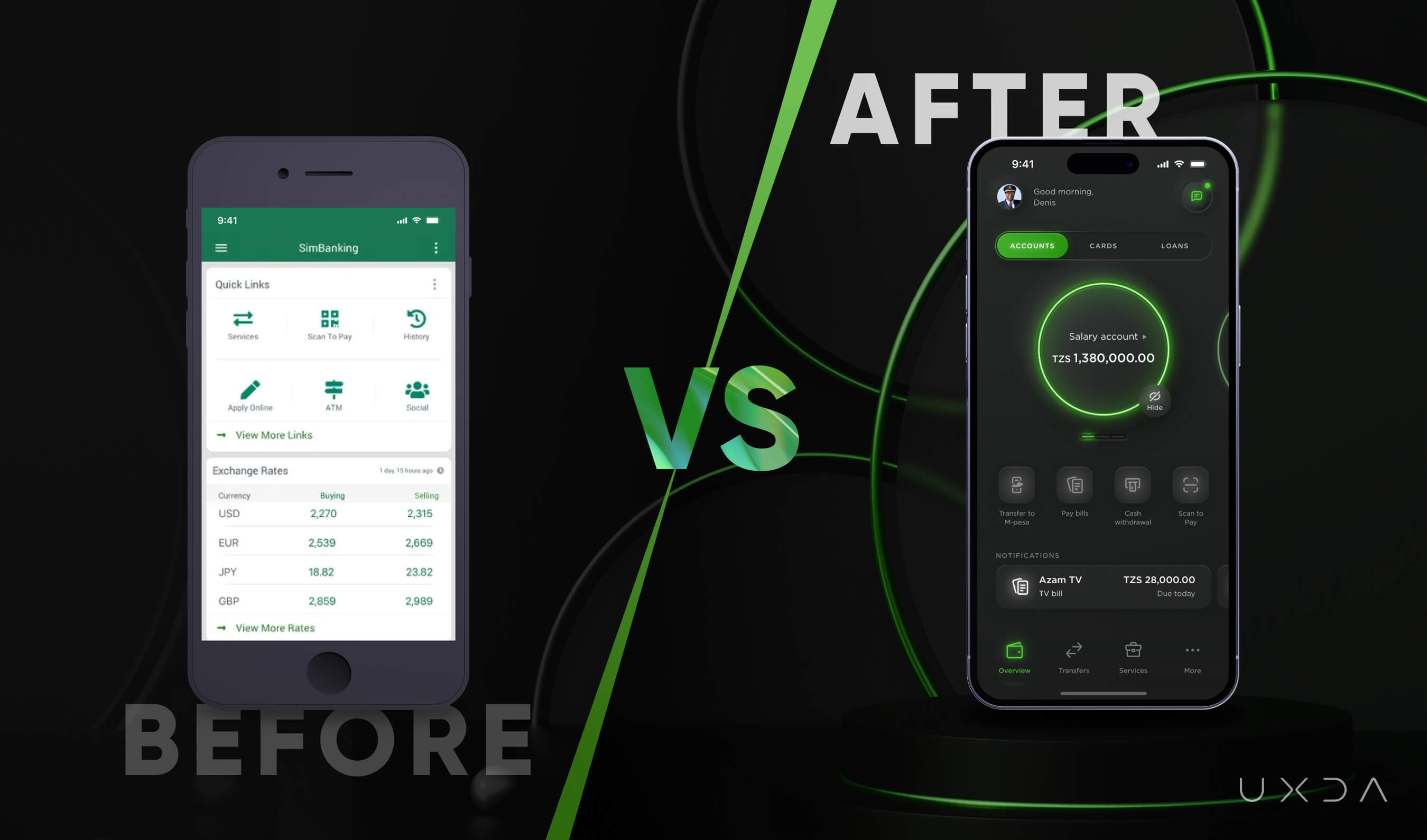 The reimagined digital strategy empowered CRDB to serve its customers more effectively, offering a user experience that was not only modern but also highly engaging. The revamped app marked a significant leap in CRDB's digital journey, catering to the evolving
needs of Tanzanian users and reshaping their perception of banking.
5. Arab Bank's Mobile App
United Arab Bank (UAB), aimed to align their mobile banking experience with their commitment to exceptional customer service. Despite offering tailored financial services, UAB's existing mobile app didn't fully embody their values. They sought to enhance
their digital offerings and reduce the need for physical branch visits.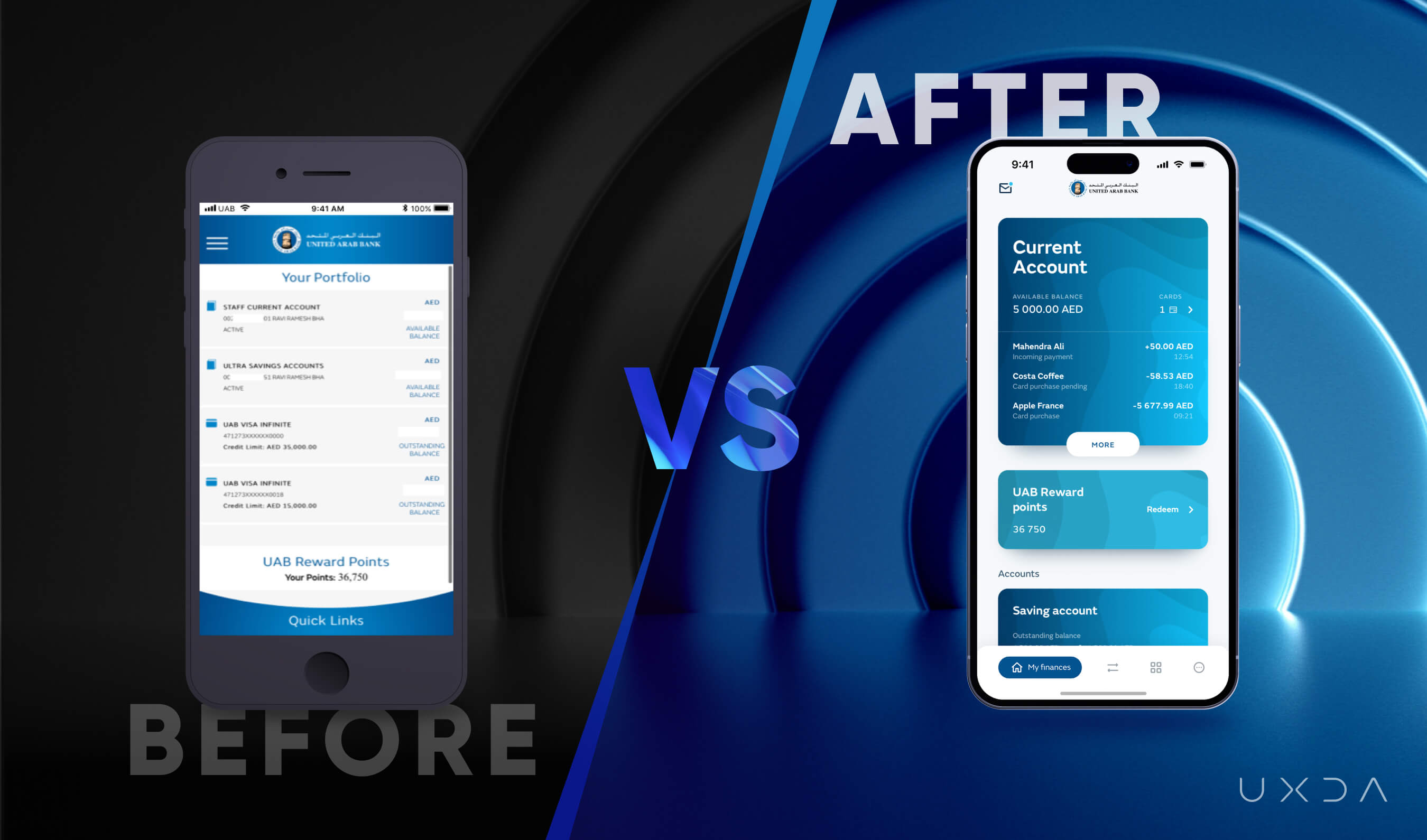 UX designers task was to transform UAB's mobile banking into an intuitive, engaging platform that motivated users to shift from branch visits to app usage. The goal was to foster relevance, simplicity and contextual information presentation, aligning with
UAB's mission to provide superior digital banking in the UAE.
6. Retail Banking App in the Middle East
Bank of Jordan, a well-known and respected middle eastern bank, had a goal to enhance and digitalize the user experience in the mobile app. The Bank of Jordan's app offered a wide array of features that unintentionally created more complexity for users to
perform basic tasks. The challenge was to remove the complexity and create a convenient and powerful mobile app in which users can perform as many operations as possible on the go, eliminating the need to go to the branch.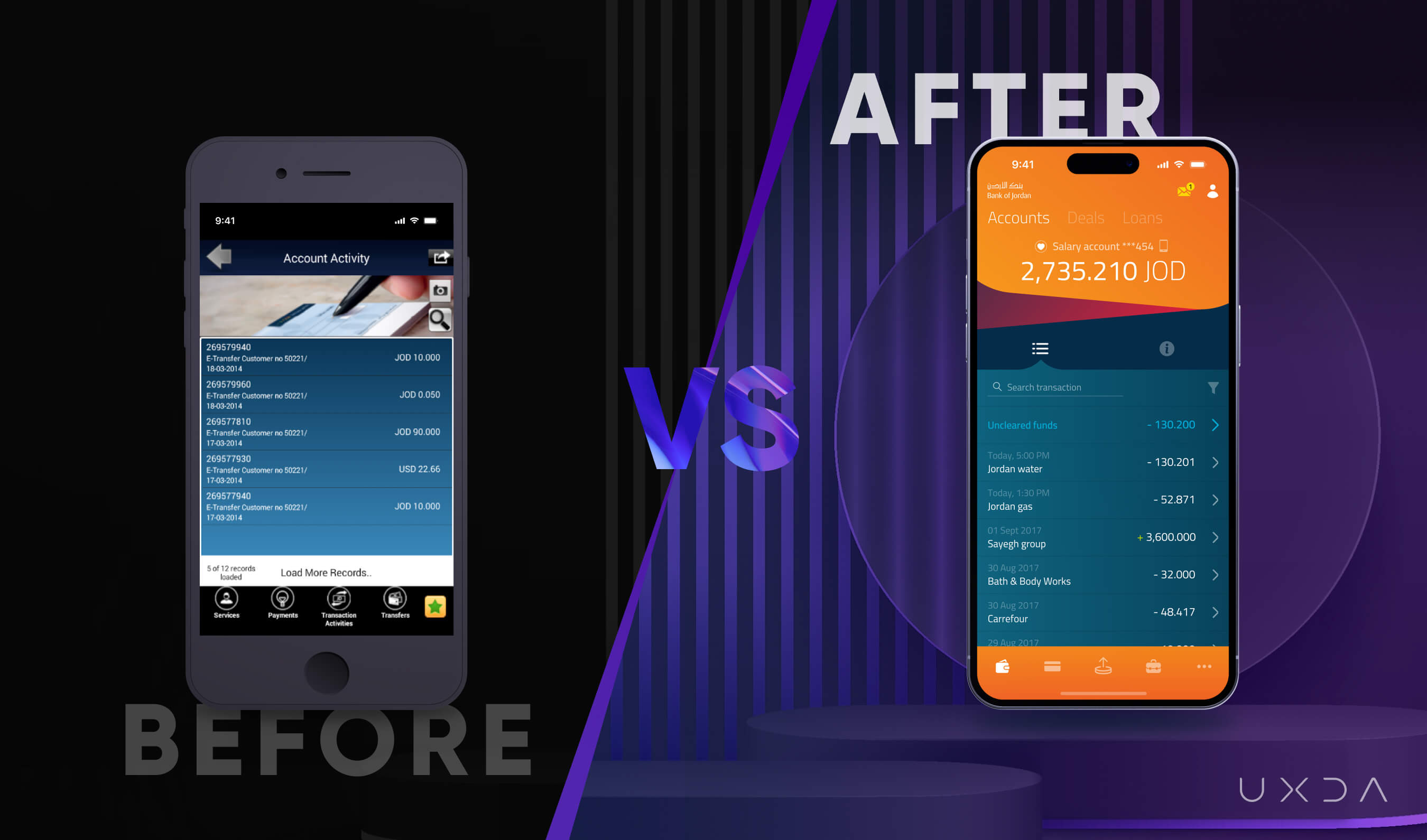 They updated their mobile banking app with a remarkable transformation in just six months, soaring from a 2.8 to a 4.7-star rating on Google Play, leading to enhanced accessibility and convenience for millions of users in the middle east.
7. Hedge Fund's Digital Ecosystem
Magma Capital Funds aimed to revamp the investment experience for digital-savvy users. They sought a user-friendly, luxurious digital solution to attract and empower new-gen high-net-worth investors, offering control, sophistication and convenience.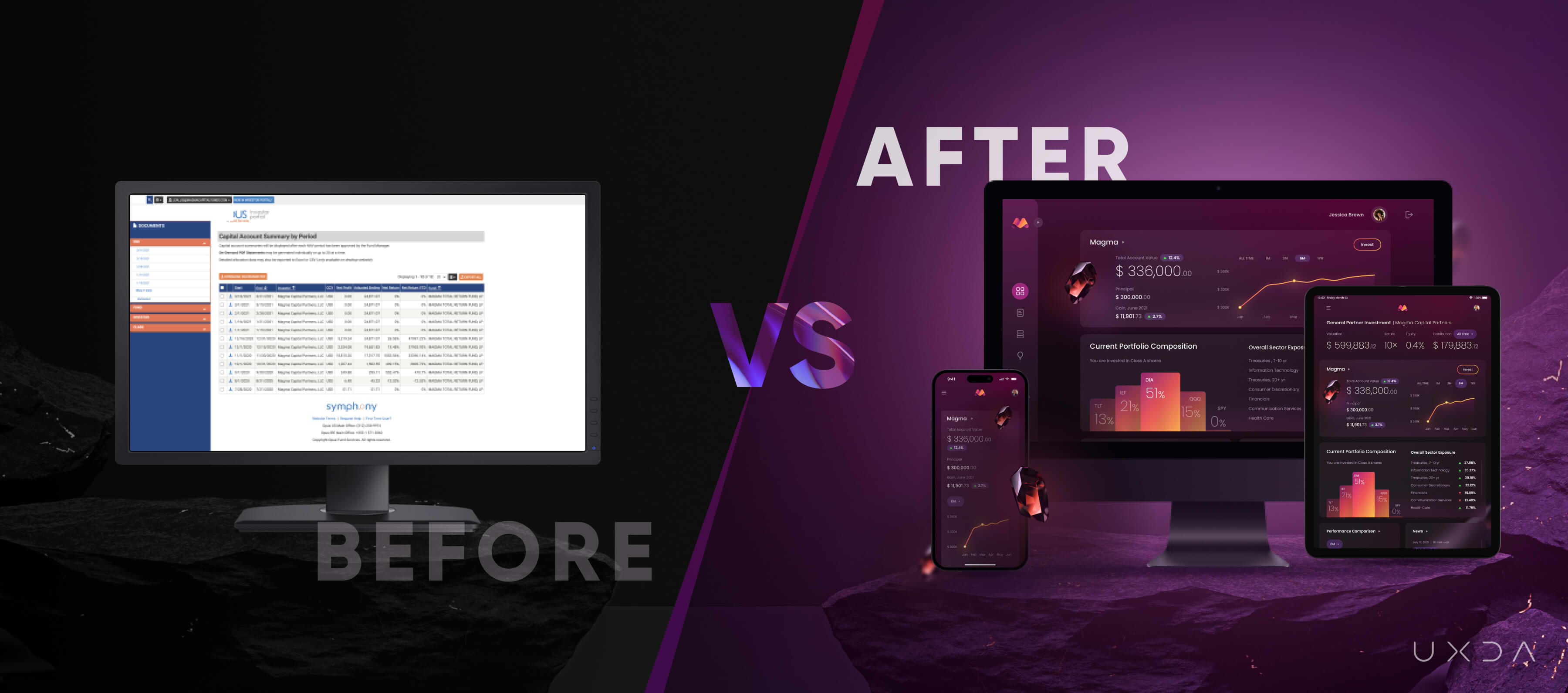 Their goal was to overcome HNWI obstacles, replacing paper-based procedures with seamless digital onboarding, enabling remote investment management. By eliminating transparency issues and undisclosed strategies, they aimed to redefine hedge fund relationships.
8. Wealth Management Platform in US
Private Wealth Systems, a provider of advanced investment reporting and analytics for affluent families and financial advisors, initiated a profound revamp of the product and their platform's user experience. Their challenge revolved around aligning their
platform with the expectations of their high-net-worth clientele. 
The existing user interface and experience fell short in delivering the sophistication and service quality that their customers demanded. PWS sought to revamp their investment reporting and analytics platform, aiming to create a more intuitive, visually
appealing and functionally efficient system that resonated with their users' high expectations.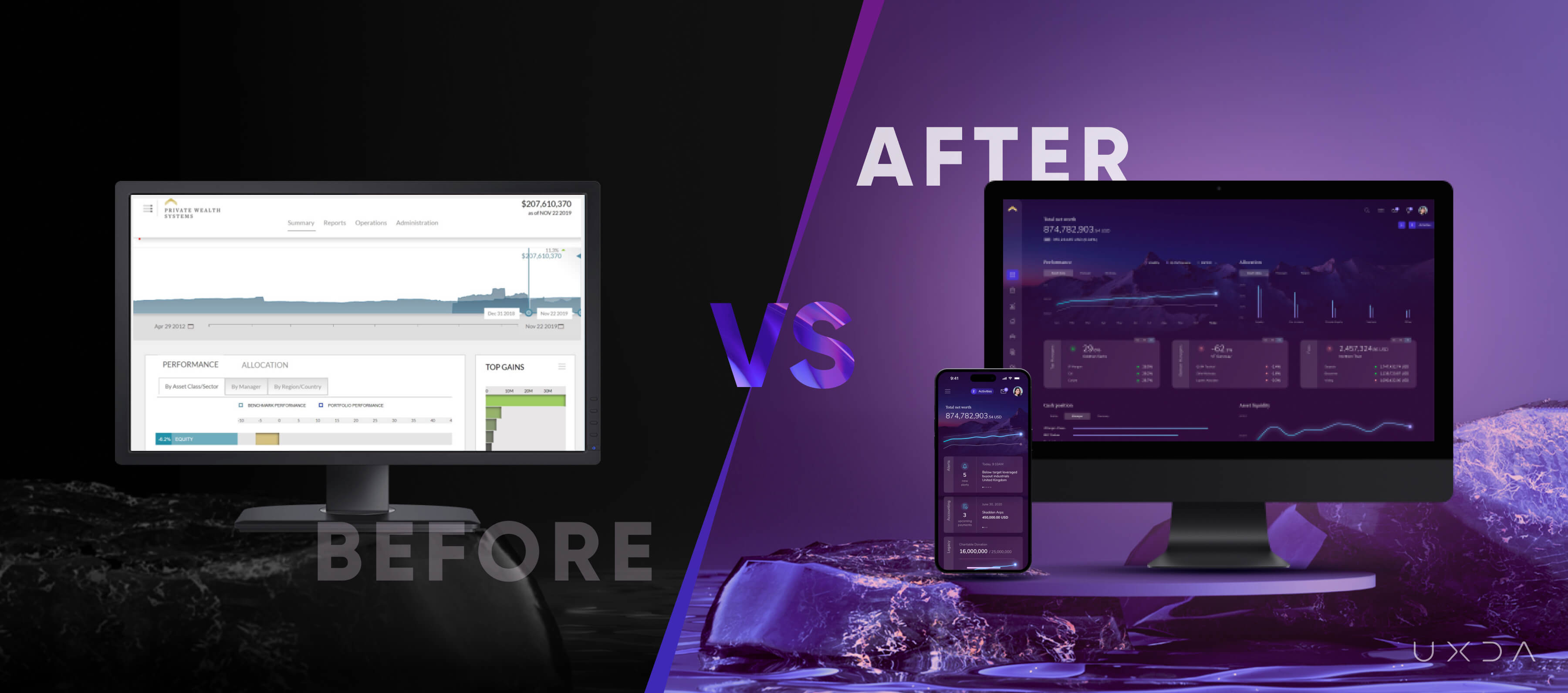 Private Wealth Systems is a unique gem in the industry that smooths friction and makes managing complex wealth delightful. This is a one-of-a-kind wealth management system that is a must-have for any ultra high-net-worth individual. This transformation has
redefined how affluent individuals and their financial advisors interact with investment data, elevating the platform to an essential tool for ultra high-net-worth individuals seeking sophisticated wealth management solutions.
9. Cloud-Based Core Banking
ITTI Digital, a banking software vendor, underwent a profound transformation to migrate a 15-year-old core banking solution to the Cloud. This shift led to remarkable improvements in banking service speed, employee productivity and customer satisfaction. 
Learning curves for banking employees are reduced from months to hours, lowering the risk of human error. The Cloud-based system also expanded ITTI Digital's global market reach. Consequently, the core banking system received the prestigious IF Design Award
after just a few months following their visual product release.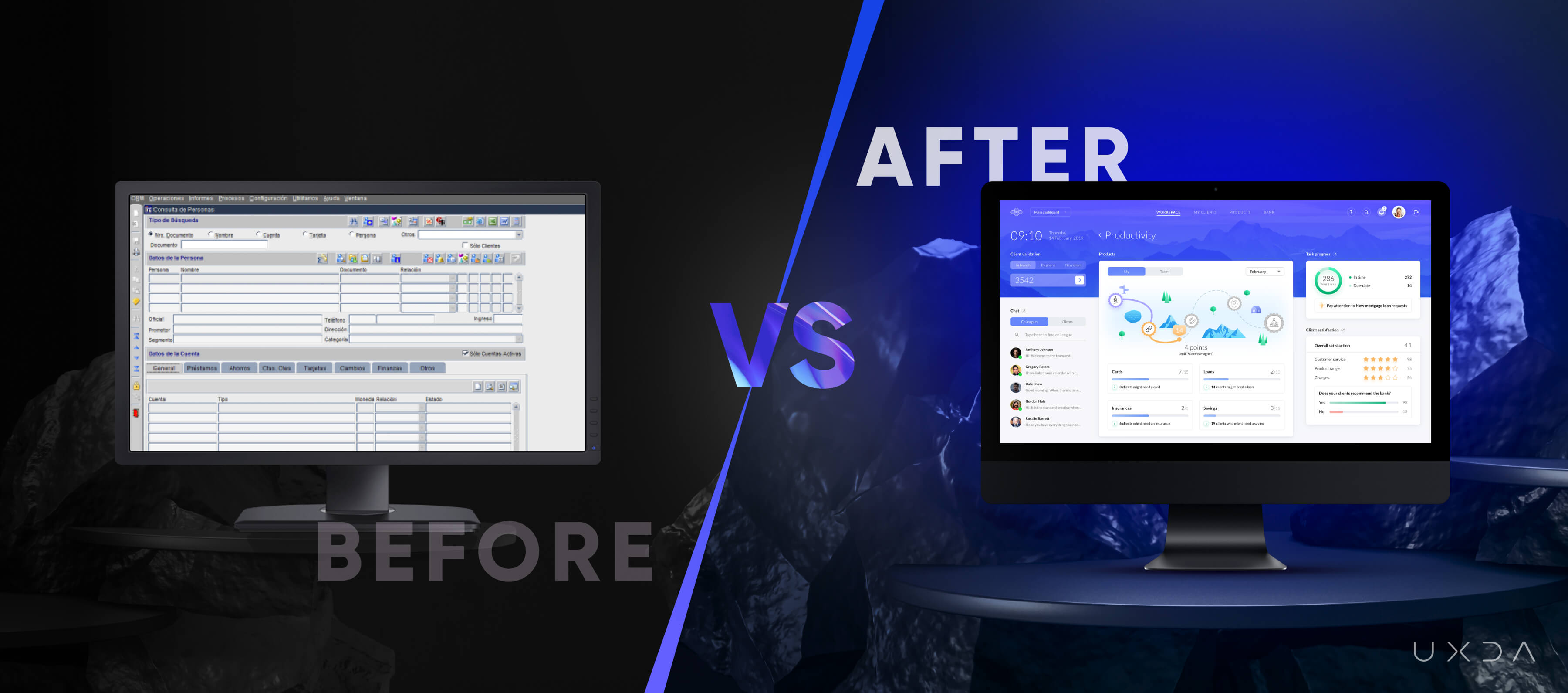 Throughout the project, ITTI Digital's perspective changed significantly as they prioritized users and their needs. They embraced user feedback and empathized with their struggles, resulting in a more user-centric approach. Sixty-five percent of the previous
platform's functionality was removed due to being unnecessary, and entirely new functionality was added based on the user needs that they uncovered.
10. White Label Banking Ecosystem 
CR2 is a global leader in the Digital Banking Platform market, particularly renowned for its dominance in Africa. It offers various digital channel solutions, encompassing mobile, internet, SMS, USSD, payments, card management systems, ATM and kiosk. Recognizing
the need to enhance cross-channel customer experiences, CR2 undertook a mission to establish a unified UX/UI design system and digital strategy for their white label ecosystem.
As a result, CR2 has crafted a harmonious white-label ecosystem, including desktop, tablet, mobile and ATM, empowering financial institution departments to collaborate seamlessly, ensuring uninterrupted customer experiences across different channels. This
commitment solidifies CR2's position as a pioneer in shaping comprehensive financial solutions.
The Transformative Power of Design
The success of such financial services transformation is firmly rooted in creating memorable, emotionally resonant experiences that cater to customers' unique needs. Moving from basic functionality to a next-gen financial experience requires a shift in financial
product design that prioritizes customer-centricity, emotions and innovation. By harnessing technology, embracing customer feedback and instilling trust through empathic design, banks and financial organizations can position themselves at the forefront of
the industry's evolution, setting new standards for the financial experiences of tomorrow.
These ten examples of financial services transformation show that design goes beyond aesthetics. Instead, it pervades every aspect of a product, influencing how users interact, perceive it and ultimately benefit from it. What's more, these examples underscore
a key takeaway: design effectiveness increases as an organization becomes design-mature. As financial institutions evolve and implement design thinking methodologies, they are moving beyond transactional interactions to foster meaningful connections with users.
This transformative power of design has a tangible impact on financial companies. It elevates their offerings, creating a competitive edge that resonates with customers on a deeper level. By implementing a user-centric approach, financial institutions increase
trust, loyalty and brand affinity. As design-thinking matures within these organizations, it fosters agility, allowing them to adapt to evolving market dynamics and changing consumer expectations. Ultimately, product design is the driving force that drives
the financial industry forward, redefining relationships, enhancing experiences and shaping a brighter future for both financial companies and their customers.
Following is a list outlining the key points to successfully transform a financial app through a customer-centric design and user experience (UX):
Conduct thorough user and product research to detect usability issues, pain points and improvement opportunities. This informs the design process and ensures that the app caters to real user requirements.
Align the app's strategy with design principles. Prioritize design decisions that enhance user satisfaction, engagement and ease of use.
Implement Design Operations (DesignOps) practices to streamline and optimize design processes, fostering collaboration among teams and ensuring consistency across your digital ecosystem.
Consider financial market development and your customers' key values in your product design. Tailor the product's design to cater to a diverse range of user needs and goals.
Keep the human at the center of your business strategy and all design decisions. Make your business purpose-driven to bring good to the community and align with customers' expectations.
Continuously view the app through the lens of the customer. Regularly seek user feedback and insights to refine and enhance the app's design based on user context.
Cultivate a company culture that combines value and design to encourage collaboration among design, development and business teams. Customer-centricity should be integral to the overall company culture.
Identify critical user scenarios, such as onboarding, transactions, customer support, etc. Streamline these interactions to minimize friction and provide a seamless experience.
Apply design thinking methodologies to creatively solve user problems. Empathize with users, define their needs, ideate solutions and prototype and iterate based on feedback.
Identify areas in which the user experience might be disjointed or inconsistent. Smooth out these gaps to ensure a cohesive and coherent journey for users by detecting and resolving blind points in your business.
An excellent app design doesn't guarantee success without a strong launch strategy. Continuously monitor user behavior, gather feedback and make improvements based on data and insights.
As we see, a successful financial service transformation requires a holistic approach that combines design expertise, user insights and a commitment to delivering an exceptional customer experience.